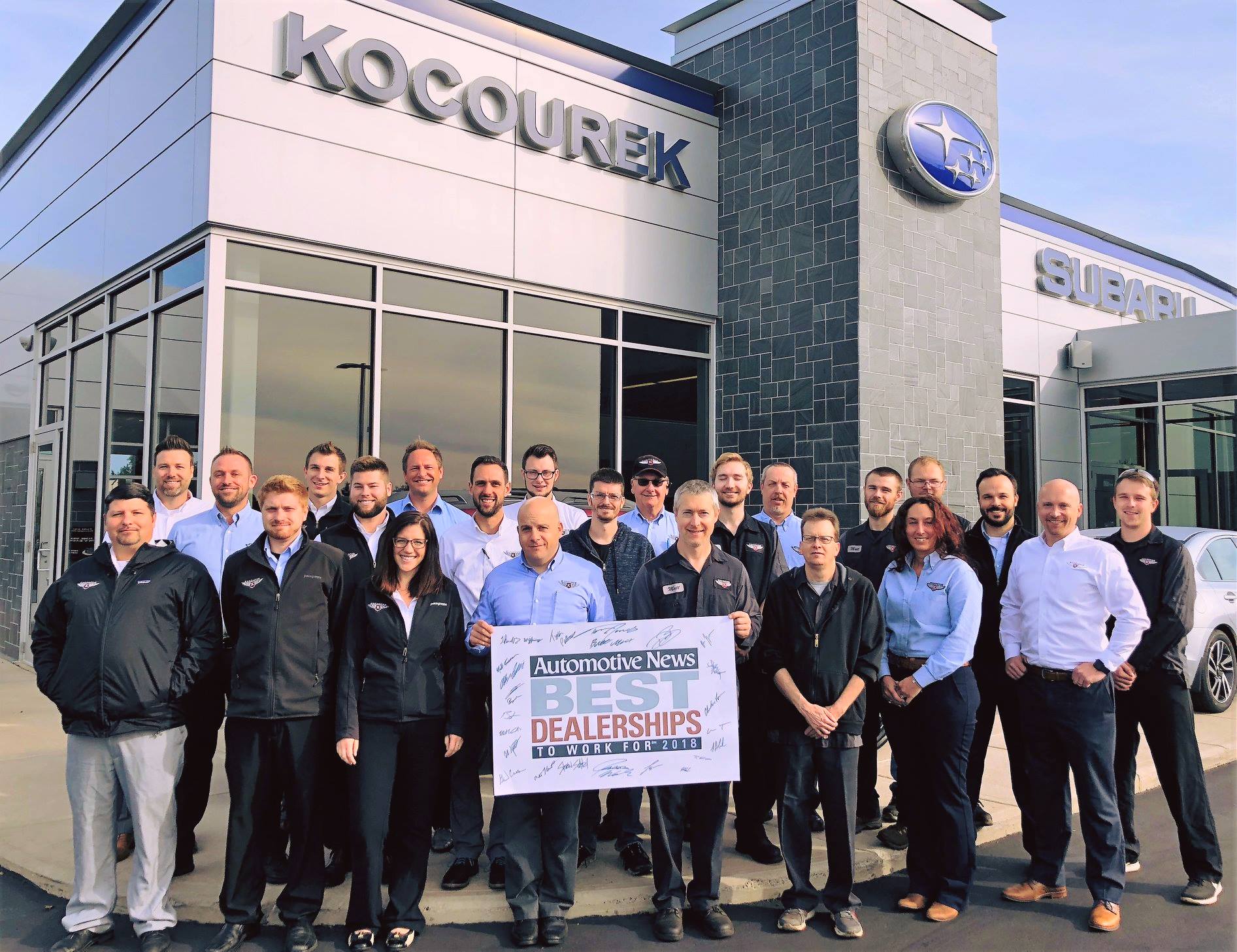 Kocourek Subaru
Wausau, Wis.
#36 100 List Ranking
DEALER:
Keith Kocourek
DEALERSHIP GROUP:
Kocourek Automotive
FULL-TIME EMPLOYEES:
40
2017 NEW-VEHICLE SALES:
732, up 15%
2017 USED-VEHICLE SALES:
393, up 24%
EXECUTIVE ADMINISTRATIVE ASSISTANT MARCIE WICKLUND-BYERS ON CHANGES TO RECRUITMENT:
"We are very active on social media promoting our great benefits and what a fun and rewarding place our dealership is to work for."
WICKLUND-BYERS ON REWARDING EMPLOYEES AND SHOWING THEM THEY ARE VALUED:
"We have quarterly lunch gatherings to honor those top performers in each department. They receive prizes that include gift cards and trips."
WICKLUND-BYERS ON HELPING EMPLOYEES DEVELOP A CAREER PATH:
"This is extremely important to our dealership. We have a group of team members who we call Emerging Leaders, who meet monthly. Our COO and CFO sit in and help develop them professionally for their next role. These team members would be next up for a promotion should a position become available."
WICKLUND-BYERS ON MAKING WORK SCHEDULES MORE BALANCED OR FLEXIBLE:
"Every team member is given an opportunity to have an early night as well as one day off per week. We are also very flexible if a team member has a family outing that they need to attend."
WICKLUND-BYERS ON COMPENSATION:
"Compensation is more than just what a pay plan pays. We have a very competitive 401(k) plan with match from the dealership. Our health insurance is by far the best in our area - affordable and convenient for those enrolled. We have a very generous vacation program."