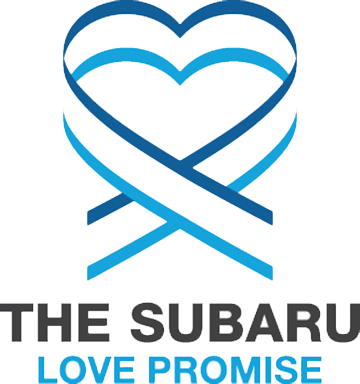 What is the Subaru Love Promise?
Subaru and our retailers believe in making the world a better place and the Subaru Love Promise is our vision of respecting all people. This is our commitment to show love and respect to our customers and to work to make a positive impact in the world.
How is Kocourek Subaru dedicated locally to the Love Promise?
Our We believe in being a positive force in something bigger. And it all starts right here in our community. Not just by our donations, but by our actions. That's why we stay true to our Love Promise Community Commitment by partnering with a wide variety of community nonprofits and charities. Every year, we join hands with our owners in the "Share the Love" event, giving back to our community-a community that's given so much to us. So, every day, we strive to ensure our love is felt not just by our customers, but by all in our community. We do this because we feel it is the right thing to do. We are proud to participate in the Love Promise Community Commitment. We're grateful, not only to be a part of our community, but to serve and support the causes and passions that are closest to our hearts, right here in our neighborhood. All of the organizations we support have one thing in common: the unwavering dedication to improve the world and the lives of ­its people.Love Promise can be seen in various partnerships with local charities and non-profits. We're grateful for the opportunity, not only to be a part of our community, but to serve it as well.
Humane Society of Marathon County
Big Brothers Big Sisters of North Central Wisconsi
Love Promise Stories from Kocourek Subaru
Subaru and Kocourek Subaru believe in making a positive impact on the communities in which we live and work. We uphold that belief through our Love Promise Community Commitment. Every month, we select inspiring stories from customers and partners from around our area who strive to support our collective commitment and feature them here
Let us count the ways - Lisa L
Kocourek Subaru has been a reliable partner to our organization for several years. During the uncertain times of COVID-19 their support remained steady as they pivoted to find creative new ways to support the shelter and homeless pets of Marathon County. When we couldn't meet in person this year Subaru stepped up BIG to offer a $100.00 donation for every animal adopted during the month of October, up to 31 pets. October would prove to be a banner adoption month for HSMC, with over 70 animals finding their forever homes. No other October when looking back over the last five years has seen as many adoptions! With more and more families working from home and virtual schooling options, the time is right. Our shelter pets are spending less time on average in a cage waiting and are finding love faster. This is not only what our dreams are made of but a ray of sunshine for a small, hard working staff still navigating their way through the challenges that each day brings. You are the light at the end of their tunnel and ours; you continue to help us find our way.
---
Kocourek Subaru Delivers Hope! - Karen R
On Friday, July 12, 2019, Kocourek Subaru and volunteers with the Wisconsin Chapter of Leukemia & Lymphoma Society delivered 80 blankets and arts & craft kits to Aspirus Regional Cancer Center as part of the Subaru Loves To Care program. These comforting gifts were accompanied by inspirational messages of hope written by the customers and staff of Kocourek Subaru throughout the month of June. LLS is proud to partner with Subaru to spread hope, love and warmth to those fighting cancer, across the country and right here in the Wausau Wisconsin community. Many thanks to everyone at Kocourek Subaru and Aspirus Regional Cancer Center, not only for a memorable day for our volunteers, but for supporting LLS's mission to cure blood cancers and improve the quality of life of patients and their families.
---
Kocourek Subaru delivers love to Aspirus - Katie K
The Leukemia & Lymphoma Society had the opportunity to partner with Subaru for their Loves to Care program. Aspirus Regional Cancer Center was so excited to be the recipient again of the blankets and tote bags that were given to cancer patients. During the month of June, Kocourek Subaru collected messages of hope that were written by Subaru customers and brought along with the blankets to Aspirus. A big thank you to the Kocourek Subaru team for taking care of our community! You bring love, warmth and hope to cancer patients and their families.
---
Kocourek Subaru delivers LOVE, warmth and HOPE! - Naomi G
The Leukemia & Lymphoma Society-Wisconsin Chapter was grateful to join Kocourek Subaru for the delivery of their Love Promise Care Package to Aspirus Regional Cancer Center. Aspirus was thrilled to receive such a wonderful gift! "It means a lot. I've been affected by many different types of cancer in our family. I just recently had a good friend of mine lose his dad to leukemia so I know it's an ongoing battle, and it's a very very important thing so being a party of something bigger like this means a lot," explained Kocourek employee Luke Babcock, to the local new station. Since the delivery, we've received numerous "thanks" from the cancer center. Patients are loving the blankets and message of hope. Many thanks to Kocourek Subaru for bringing warmth and hope to patients in Wausau. Link to news video-http://www.wsaw.com/content/news/Local-dealership-speads-love-and-warmth-to-cancer-patients-435713383.htm
---
Kocourek Subaru Loves to Care - Kim Z
Kocourek Subaru is proud to give back to our community with the Aspirus Regional Cancer Center and the Leukemia & Lymphoma Society. Thank you for helping us spread the love and hope to those in need. To learn more about Subaru Loves to Care, please visit: subaru.com/loves-to-care #SubaruLovestoCare #KocourekSubaru #WeLoveOurJob
---
Kocourek Subaru Loves the Earth - Kim Z
Kocourek Subaru loves the Earth and our community. "Loving the environment means more than loving the great outdoors. It means working to preserve it." #subarulovepromise #subarulovestheearth #drivekocourek
---
Subaru and NWF Loves the Earth - Cindy R
Our class has worked on the garden area outside of our window. We add animal habitats and native plants provided by Subaru. We have also grown flowers from seed to plant in the front of school. We have improved the nature trail on the side of our school by painting marker rocks and lining the trail. We helped plant a new flowering tree in our school yard also.
---
Subaru Loves Rothschild Kindergarten - Cyndi R
With the help of Kocourek Subaru and especially Luke Babcock, one of the kindergarten classes at Rothschild Elementary School was able to create a more beautiful school environment while creating a bird sanctuary outside our classroom window. The generous gift from Subaru of native plants, soil, and seeds allowed the children learn about what plants need to grow and thrive. The students were able to create an area around our school to attract butterflies. We also set up a bird feeding and viewing area outside our classroom window with donations of bird feeders, houses, and a bath. Sitting at the table by the window became the favorite location during the last weeks of schools. We were also able to order bird identification books to expand the students learning and appreciation of wildlife. The incredible donation from Kocourek Subaru to Rothschild Elementary School was greatly appreciated and bought the love of the earth to the kindergarten classroom. By allowing the students to be involved in planting plants and creating wildlife areas they have developed a lifelong love of outdoor learning.
---
Subaru LOVE Promise - Charlie S
Spring is here and with it comes "kitten season" and the increase in vaccinations, antibiotics, kitten food, veterinary care, and cleaning! It also means muddy paws, escapes through gates and fences in ill repair, and people moving to new dwellings where pets are no longer welcome. The good news is they are welcome here until we can reunite them with an owner OR find the unwanted their forever home. All of this is possible because of people like YOU who share our passion and love for these animals. Thank you for the opportunity to participate in the 2016 Subaru Share the Love event and the wonderful donation to our organization. We hope you will continue to join us on our mission to inspire and engage the community to end animal suffering and commit to responsible pet ownership. Thank you for choosing to join us in making a difference.. one animal at a time. Mary Kirlin Executive Director
---
Loving Our Local School - Rena S
"Loving the environment means more than loving the great outdoors. It means working to preserve it." Thanks to Kocourek Subaru, Rothschild Elementary School acquired an Earth Day planter from the National Wildlife Federation. The planter was a certified wildlife habitat and arrived just in time for spring earth science studies. The property provided an example of the four basic habitat elements needed for wildlife to thrive: food, water, cover, and places to raise young. Students caring for the habitat soon learned it required a pail of water a day! The plants were specifically selected to attract Monarch butterflies. The special planter was viewed throughout the spring and summer by all students and families through the Rothschild office and lobby windows. Several students became interested in the study of moths and butterflies and began their own habitats. Thank you to Kocourek Subaru for your generous donation in ensuring the love of outdoor learning. #RothschildROCKs because of you!
---
Sharing the Love - Mary K
It is said that a picture say a thousand words, this one speaks volumes to us! Helping us accept this year's donation at Kocourek Subaru were 3 of many pets who we were able to help from last year's Share The Love gift. On the left is Zoey who came to us in January 2016 so cold her temperature didn't register, malnourished, and starved. Emergency veterinary care, tests, surgery, multiple urgent runs to the vet and today she is ready for her forever home. To the inside is Hazel Grace, a sweet hound pup who arrived with a shattered knee that was left untreated for a week by previous owners. A long, long surgery saved the use of her leg and knee and she is going home very soon! And then Atlas, the little pit bull pup, who arrived with sarcoptic mange and endured a few months of isolation, medication, vet care and TLC and actually scored her forever home with another Subaru employee after appearing for this picture. How's THAT for sharing the love? Multiple major dental procedures, eye entropion surgeries, and "mystery" symptoms were diagnosed and cured thanks to Subaru and the wonderful customers who purchased or leased during the event and selected HSMC as their hometown charity and shared the love with our sheltered pets. THANK YOU all and thank you, Kocourek Subaru, for making a tremendous difference in lives of the pets we care for at the Humane Society of Marathon County!
---
Sharing the Love and Changing Lives - Mary K
The Humane Society of Marathon County was proud and excited when we learned we had been selected to participate in the 2014 Subaru "Share the Love" event with Kocourek Subaru. Every donation we receive allows us to do a little more than the day before for the animals sheltered at HSMC. While we budget each year to provide for the spays, neuters, vaccinations, and all the operational expenses, more and more often we are faced with pets needing extra care. X-rays, dentals and extractions, blood work and other diagnostics, trips to the emergency vet, entropy surgery, abscesses, embedded collars, intestinal blockage and other emergencies/ surgeries put a huge dent in the budgeted funds. Having this money finally gives us the resources to be able to choose an orthopedic repair versus amputation of a leg in a young, vibrant dog; or in the recent case of Payton a pup that needed a trip to the UW-Veterinary School for an MRI and diagnosis; and situations we haven't even encountered yet! Subaru and their customers have made a truly life altering difference for many pets we have yet to meet and have the privilege to care for. From all of us of every species affiliated with HSMC -THANK YOU, THANK YOU, THANK YOU!
---
Kocourek Kids Foundation - Marcie W
Since 2011, Keith Kocourek and his dealerships have contributed over $245,000 to the Kocourek Kids Foundation, and have donated $150,000 to various organizations within the Wausau community including, Big Brothers Boy Scouts of America, and the Neighbors Place. The Foundation is currently looking for a project to support like a Childrens Museum, Childrens Park, or educational scholarships. The Kocourek Kids Foundation is comprised of all employees of Kocourek Automotive each with equal power and an equal vote. Our Operating Committee is comprised of employee volunteers that represent each of our stores and different departments within them. The Operating Committee oversees the disbursement decisions under the guidelines as established by the Community Foundation of North Central Wisconsin and any opportunities that arise that may directly benefit funding to the Kocourek Kids Foundation.
---